Designer Profile
Sharon Holland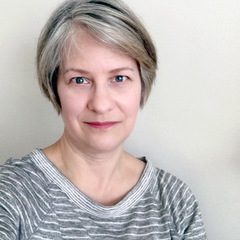 Sharon has been quilting and sewing clothing, crafts, and home accessories for over thirty years. While raising three children with her husband, she owned a small business selling new and repurposed merchandise. That venture provided Sharon with constant creative challenges for how to reuse, display, and market everyday items. A move to a new state meant closing her business, but opened new doors by reconnecting her with art and photography. Sharon, an art and design major, dusted off her paintbrushes and camera lenses and began selling her canvases in galleries and photos as greeting card designs. "
One road always leads to another
," and the natural progression was to turn her art into textiles.
Designing four collections for a fabric company and appearing in numerous quilting magazines with both her textiles and quilt designs, brought about a career in the magazine industry as an Assistant Editor, graphic designer and photographer. "Even though I am interested in knowing and working in every aspect of the quilting and sewing industry, my heart is in design—especially textile design.
After two plus years as an Assistant Editor, it was time to find my artist's voice again. I set to work drawing and creating a group of prints--something I would like to sew with." Joining the Art Gallery Fabrics family of talented designers brings Sharon full circle, infusing her design aesthetic with the creative artistry behind Pat Bravo's credo to bring beautiful prints on quality fabric to life, Sharon states, "I feel I've come home."

Bountiful
Coastline
Gossamer
Signature
Sketchbook
Tapestry