Designer Profile
April Rhodes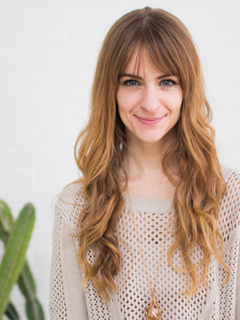 "It's important for me to stay close to family and friends as well as our shop, Sew To Speak. A fabric store I helped my mother open in 2008."
I was eight years old when my mom first taught me how to use a sewing machine and my passion bloomed. Making pretty things brings me fulfillment and joy. I'm a fashion enthusiast and love wearing what I make. It gives me a great sense of pride to walk around in a dress I've sewn myself. It's like a fun little secret... "I made it myself."
It was that feeling of fulfillment that drove me to create simple garment patterns for women's home sewing. My first pattern, The Staple Dress, released last year with an amazing reception into the sewing community. The success of that first release both humbled and excited me. Invigorated by the thought of other crafters using my work, patterns or fabric, to pursue their own creative endeavors--makes my heart skip!
In addition to sewing, I enjoy dabbling in interior design and DIY home decor, photography, antiquing and vintage camper rehab. I currently live in my hometown of Columbus, Ohio, where my husband and I have a mid-century ranch. We are pursuing our dreams while raising our two daughters.

Arizona After
Arizona by April Rhodes
Bound
Heritage
Observer